Booting up a brand-new PC is always fun. It runs fast, everything is snappy and highly-responsive. You started to get more productive, get more work done and have fun doing it. However, after few months, it stops booting quickly and every application is taking way too longer to load. Your system starts behaving stubborn and doesn't respond well to your commands. Relatable? That's the whole premise on which 'PC Cleaning' tools industry is based.
But before getting deep into the ocean, let's see why computers actually get slow with time and why taking help of a PC Cleaner Software is indispensable.
Our Top 3 Choices
Advanced System Optimizer

Cleans Junk and Obsolete Files
In-built Game Booster
Removes malware, adware & spyware

Best choice

WinZip System Utilities Suite

Easy To Use Backup & Restore options
Strong Malware Protection
Ideal Fort Both Beginners & Advanced Users

Best choice

CCleaner Professional

Schedule Automatic Cleaning
Comprehensive Registry Cleaner To Fix Common Error
Scan & Remove Duplicates In A Click

Best choice
The Best Free PC Cleaner Software for Windows 10, 8, 7 in 2020
We tested these tune up utilities for Windows 10 to determine which one is the ideal for most user's computer fix or optimization needs. So, here's the bunch of best PC cleaning software that are competent enough to speed & optimize your Windows PC.
1. Advanced System Optimizer
Comprising of all the qualities of an ideal PC cleaner software, Advanced System Optimizer is simply a bunch of dedicated functionalities that indexes all the junk files, logs, caches and redundant data at one place, where you can clean up your cluttered PC with just one-click. This PC tune up software has an intuitive interface & needs no tech know-how for using it.
Whether you want to optimize your hard disk or update your drivers, whether you're looking to clean your system for performance boost or protect your system from attacks. Advanced System Optimizer is the best PC Cleaning Software in the market that comes with robust functionalities to optimize and maintain your system for long running.
HIGHLIGHTS: Apart from featuring a plethora of tools to keep your system healthy, this Best PC Fixer comes with:
Smart PC Care to deal with various types of PC issues.
Registry Cleaner to repair Windows registry issues.
Disk Optimizer to improve turnaround time.
Game Booster for lag-free gaming experience.
Driver Updater to update outdated system drivers.
System Protector to safeguard your system against malware, trojans, spyware etc.
Backup Manager to recover accidentally deleted data.
Duplicate Remover to get rid of unwanted identical files.
Secure Delete to permanently delete files or folder so that it cannot be recovered by any file recovery utility.
And much more. This computer cleaning software is simply an all-in-one solution for all your PC related issues. Download Now for a lag free and smooth-running Windows system.
2. WinZip System Utilities Suite
Next, on our list is WinZip System Utilities Suite, that offers an  impressive set of tools to maximize your PC's efficiency in few simple clicks. This program can help you have a healthier system by fixing common issues that makes your PC crash down or lag. With robust features such as System PC Care, Registry Optimizer, Driver, Updater, Disk Cleaner, Privacy Protector, Regular Maintenance and much more.
If you are someone who's into designing and works with heavy graphics software, then you should definitely rely on this cleaner for pc, WinZip to improve your system's speed immeasurably. This PC tune up software is very easy-to-use, you just have to download it and run a complimentary performance scan to analyse what's slowing down your PC. Once detected, with few clicks you can fix these issues and enjoy a fast, efficient, fresh computer.
HIGHLIGHTS: What's more? Aside from all the basic functionalities, WinZip also offers 20+ advanced tools for peak performance in a flash:
Put a lock on your personal information.
Easy-to-use backup and restore options.
Plethora of tools for regular system maintenance.
Strong malware protection.
With every scan you can enjoy faster and more stable system.
Ideal tool for advanced users.
WinZip is the best software to speed up PC at mere $39.95.
Purchase WinZip System Utilities Suite
3. CCleaner Professional
CCleaner has been around for a long time, and the reason for its sustainability is its powerful scanning engine that cleans every nook and cranny of your system, even those places that your PC's default cleaning options can't clear. This cleaner app for PC is very convenient to use and it delivers a noticeable boost in performance.
CCleaner Pro brings go-to-utilities such as System Cleaning, that removes unwanted stuff from browsers & apps, Registry Cleaner to fix problems in Windows registry, Disk Analyzer to scan which type of files are using more disk space and much more. CCleaner has both free and paid versions! Though the free version is equipped with a lot of tools while its paid (Professional) version has more advanced options for confident users.
HIGHLIGHTS: CCleaner's most impressive features are listed below:
Smart cleaning to clear junk files from browser and other places.
Comprehensive Registry Cleaner to solve every registry-specific problem.
Scheduled scans for timely cleaning.
Startup Manager to enable/disable or delete startup programs.
Context menu editor for managing right-click menus.
Driver Wiper to securely erase contents on a drive.
Duplicate Finder to scan and remove duplicate files/folders.
All-in-all CCleaner is one of the best program to clean up PC that is available today. Aside from great cleaning characteristics, it also has time-saving and PC maintenance functionalities which makes it the cleaner for pc for Windows 10.
4. Glary Utilities Pro 5
Glary Utilities Pro 5 is one of the best PC tune up software that offers multipurpose solutions for PC performance optimization. Similar to other best free PC cleaner tools, Glary Utilities Pro 5 brings Registry Cleaner, Disk Repair, Unwanted Files Cleaner, Startup Manager, Uninstall Manager and so on. However, what makes it stand out from the league is it comes with plethora of small useful tools as well that helps you to personalize your system according to your needs.
They are Shortcuts Fixer to remove broken shortcuts, Empty Folders Finder to search for folders that are empty and taking unnecessary spaces, File Splitter to divide files into small files, File Encrypter to add password-protection to specific files, System Information to get a brief overview of your PC's internal information and much more.
HIGHLIGHTS: Glary Utilities pro is the best system cleaner for Windows 10 & here are the supporting reasons.
Scans your PC performance and manage the running process.
Tune up your system performance.
Optimizes the memory management of Windows.
Backup & Restore the Windows Registry.
Protects your privacy and password-protect your sensitive data.
File shredder.
Malware protection.
Duplicate Files Finder.
Context Menu Manager.
System backup and restore.
1-Click Maintenance.
This computer cleaner not only optimize your system for better performance, but it's also equipped with plethora of functionalities that makes it the best choice among the glut.
5. WinUtilities Pro
One of the most sophisticated best PC cleaner software out there, WinUtilities Pro offers a bundle of utilities to improve your PC's performance effortlessly. This computer speedup software comes with six modules – Clean Up & Repair, Optimize & Improve, Privacy & Security, Files & Folders, Registry Tools and System Tools, to optimize your system for super-smooth running.
A plethora of tools are listed under these six modules, so that you can easily optimize and speedup your system performance. This cleaner app for PC comes with '1-Click Maintenance' feature as well to effectively clean your system and remove unwanted temporary files, cookies, history, caches and other junk data in one-click. You can also schedule timely disk cleaning, history cleaning, registry cleaning and start disk defrag with 'Scheduled Tasks' option.
HIGHLIGHTS: Apart from all these great functionalities, this system cleaner windows 10 boasts the following features:
Disk Cleaner.
Registry Cleaner.
Uninstall Manager to get rid of all the unnecessary applications from one place.
Memory Optimizer for best performance boost.
Startup Cleaner.
File Shredder to securely remove files, with no chance of recovery.
Document Protector to secure your files with password protection.
Duplicate files finder.
System Control to organize and manage Windows setting efficiently.
Status Tab to check all the updates and happenings in the system.
With so much more, WinUtilities Pro is surely one of the best cleaner for Windows 10 on which you can rely comfortably without any second thought.
See Also: Best Duplicate File Finder and Remover for Windows 10, 8, 7
6. CleanMyPC
Owned by MacPaw, CleanMyPC is another great PC tune up software that offers a decent bunch of cleaning utilities such as Computer Cleanup, Startup Manager, Uninstaller, Registry optimizer, all wrapped up in an easy-to-use interface. Apart from featuring the obvious functionalities, this PC cleaner software offers Browser Extensions Manager, Privacy Cleaning and Shredder utility to securely delete data.
This cleaner app for PC is compatible with 19 languages including Spanish, Polish, Italian, German, Chinese and French. If you're looking for a tool that cleanses your system deeply from top to bottom then no look further because CleanMyPC is simply your choice, standing as the best system cleaner for Windows 10.
HIGHLIGHTS: What makes CleanMyPC the best cleaner for Windows 10? Read its functionalities!
Removes piles of all kind of junks: caches, logs, file residues & what not
Clears outdated registry entries and make your PC runs faster like never before.
Multi Uninstaller that removes unwanted apps along with leave behind useless cache files.
Manage autorun applications so that your PC takes less time to boot.
Effectively removes browsing history and traces of your online/offline activity.
Get rid of hibernation files in one-click.
Shredder utility to delete files permanently, so that recovery is impossible.
Though this best PC Fixer possesses several functionalities, it's price ranges simply doesn't do justice for what it is offering. $39.95 for single computer licence, $59.95 for two PCs and $89.95 for five PCs.
7. PC Booster
Next on our list of Best PC Cleaning Software, we have PC Booster which is optimized with plethora of features for both paid and free versions. Once you install this PC tune up software, it automatically starts scanning for system issues, and at one tap you can start cleaning your computer to improve PCs performance. The trial version offers only 10% scan of scanning, for more you have to buy the paid version.
If you opt for Quick Scan, it allows you to repair registry entries, temporary files, cached records, junk files and tracking records which may log your digital activities. If you opt for Deep Scan, it allows you deeply cleanse your computer by removing unneeded files, browser files and other residues which Quick Scan wasn't capable of cleaning.
HIGHLIGHTS: This computer speed up software is compatible with Windows 7/8/10 and is available in more than 20 languages. Here are few more highlights:
Quick and Deep Scanning options for complete cleanup.
Startup Manager.
Duplicate Finder.
System Restore.
Exclusion List to eliminate files and other media from being scanned.
Automatic Scanning Scheduler.
Even after being equipped with numerous optimization tools, this computer cleaning software seems very slow when it comes to navigating from one feature to another.
8. Avast Clean Up
Youngest PC cleaner on our list, Avast Clean Up is the newest computer speed up software launched by a well-known brand, Avast so you can unquestionably expect the best from the product. Equipped with a modern and stylish interface, Avast Clean Up is a dedicated best computer cleaning software that works to make your PC live longer and run faster.
Once you install this system cleaner Windows 10, it asks you to perform quick scanning, so that it can list all the PC related issues at once. While you can skip the Scan option at first place to explore other optimization features. It offers different optimization tabs, Maintenance, Speed Up, Free up space, Fix Problems etc. so that you can precisely decide where your system needs quick action.
HIGHLIGHTS: Apart from all the basic optimization utilities, this best PC fixer provides following functionalities:
Once-click system maintenance.
Speed up module to fix unnecessary apps running in background.
Cleaning module to remove unwanted junk.
Problems Fixer to repair various PC problems.
Rescue Center to undo recent functions performed.
Statistics to analyse how much space has been freed after scanning, number of problems fixed, how much speed has been increased etc.
Undoubtedly, Avast Cleanup is one of the best tune up utilities for Windows 10 but it does have slow scanning engine which makes it stand on the seventh place in this best PC cleaning software.
See Also:-
8 Best Registry Cleaner Software For Windows 10,...
Looking for the best registry cleaner software for Windows? If yes, then here is the list of best registry cleaners...
9. Ashampoo WinOptimizer 2019
Ashampoo WinOptimizer is an overhauled best PC Cleaner that keeps your system in tip-top shape and it offers unlimited speed up & optimization features which makes it the top choice among tune up utilities for Windows 10 today. A quick scan by WinOptimizer on your system, detects unwanted Windows files, apps and folders in few moments.
Aside from maintaining your system for super-smooth functioning, this PC tune up software offers a glut of features to customize your PC according to your needs and requirements. Tweaking, to manage system settings, Win10 Privacy Control to configure privacy settings, File Associator, to edit programs shortcuts, Font Manager, to control system fonts, and other system setting options.
HIGHLIGHTS: In addition to offering on-demand cleaning utilities, Ashampoo also has some excellent features that are listed below:
One-Click Optimizer to cleanse your system completely.
Internet Cleaner to eliminate web browsing traces.
Drive Cleaner, Registry Optimizer, Uninstaller, Startup Manager, Context Menu
Service Manager & Process Manager to control Windows services and running processes.
An ideal computer cleaning software for newbies.
Possessing all the qualities of an ideal PC Cleaner Software, Ashampoo WinOptimizer 2019 is a complete cleanup solution if you're looking for a best free PC Cleaner.
10. IObit Advanced SystemCare 12
One of the most popular and widely-used tune up utilities for Windows 10, IObit Advanced SystemCare 12 is an efficient tool for system maintenance. The software is well-known for swiping junks and Internet boosting. You can use this PC cleaner software for clearing residues from apps and toolbars too. It comes with Privacy Shield, Browser-Anti tracking, Real-Time Protector, FaceID and much more for all-round protection.
What's more? This best free PC cleaner also comes with a Performance Monitor that allows you to check how much RAM, CPU, Disk Space is occupied in real-time. Quite a useful feature, so that you can take immediate action and cleanup as and when required.
HIGHLIGHTS: Its free version brings a plethora of functionalities, while you can buy its premium version for more advanced features.
Basic cleaning utilities such as Startup Optimization, Privacy Sweep, Junk File Cleaning, Registry Cleaning, Spyware Threats, Startup Manager, Internet Optimization, Disk Optimization, Registry Defrag & so much more are available with free version.
Apart from these, the free version allows you to fix outdated drivers as well.
With Paid version only at a mere $21.98, it offers Deep Infection Detection, Real-Time Protection, Deep Registry Cleaning, Auto RAM Clean, Ultimate Tuneup, Internet Booster, Browser Anti-tracking and much more.
IObit Advanced SystemCare is surely one of the best free PC Cleaning software available right now, as it has so much to offer in its free version, its paid version is best suited for only advanced users.
11. Auslogics BoostSpeed 10
The last tool in the lot of best cleaner app for PC we have, Auslogics BoostSpeed 10, which has multiple performance boost modules, along with easy-to-use interface. It does have an impressive suite of tools that helps you to maximize your PC's operating efficiency. It offers a metric of bonus functions which are not performance related but are quite useful.
These are File Shredder, Disk Explorer, System info tools, Geo tools, Blocker and Duplicate finder which comes very handy. It uses significantly low amount of RAM and CPU, which means no effect on system resources or stifle performance in any way.
HIGHLIGHTS: Auslogics is an ideal computer speed up software that can clean, repair and boost any PC running Windows from XP to Windows 10.
Free version allows users to perform all the basic functions such as cleaning up hard disk, registry, boosting Internet connections, help protecting privacy, recovering deleted files etc.
With premium version you get the ability to schedule computer speed, use desktop protection, service optimization, auto defragmentation and much more.
Little complicated to navigate through the software.
Free version only clean junk files.
Offers 7 Day Free trial with all the features.
Auslogics cleaner app for PC is quite easy to use but it seems that it hasn't seen any update in its interface from a very long time, extremely basic layout!
Why Do Computers Get Slow With Time?
Regardless of whether you have PC or Mac, over time it gets slow down. The list for reasons can go long, so we're listing the most common reasons for why your computer is getting slow down:
Too many Startup Programs.
Hard Drive failure.
Your Hard Drive is all occupied.
Browser might have several add-ons.
You're running numerous apps/programs at once.
Too many Browser tabs are open.
Rogue apps or programs are hogging processing powers.
You might have overzealous Antivirus Program.
Because of virus.
Outdated OS or Drivers.
Junk files or other redundant data is occupying unnecessary space.
Invalid Registry entries.
Incomplete downloads or duplicate files, images or documents.
All these reasons can cause severe problems in system performance. So, that's where you can take help of System's default disk cleaning tool to free some disk space. Although, depending on the size of data on your PC, system cleanup could take from hours to days.
Why You Need A PC Cleaner Software?
Sometimes, system's default cleaning options are not enough to remove all the unwanted junk. Therefore, you required to deal with your PC the 'smart way' via computer cleaning software that brings a complete set of powerful tools to speed and optimize your system effectively and efficiently.
However, the major reasons why you need a computer cleaning software are listed below:
It helps in freeing up chunks of space to keep your PC organized.
It allows you to clean your registry database to maintain stability of your system.
Scans your PC to clean up caches, logs, junk files, incomplete downloads and other obsolete data to speed up your PC.
Gives your system a super-boost by optimizing PCs memory.
Provides all-round protection to your PC.
Qualities Of An Ideal PC Cleaner Software?
While choosing the 'one' PC Cleaner for you, you should look for the following qualities. An ideal PC tune up software is the one that possess following features:
Provides complete clean up and repair solutions.
Optimize PC's memory to enhance its performance.
Should be equipped with Registry Cleaner, Disk Optimizer, Driver Updater, Uninstaller, Startup Manager, Backup Manager, Duplicate Files Remover and much more.
Helps is maintaining computer's stability.
Offers an all-round protection with privacy control features.
Should have high compatibility with all Windows version.
Helps you in getting rid of unwanted hidden files.
Has all-round 1-click maintenance.
Provides Game Booster, so that users can enjoy lag-free experience while gaming.
Benefits Of Using A Computer Cleaning Software?
A good PC optimization tool can help you to get rid of all the obsolete data and to improve overall PC's performance. Here are some of the great advantages of using the best computer cleaning software:
Complete System Cleanup in just one-click, hence free from all the manual task.
Easily detect which files or apps are taking up a lot of disk space, so that you can effortlessly remove them.
Quick fixing of system errors.
Helps in removing all type of computer threats.
Spot which hardware parts needs quick action or need to be replaced.
Manage Startup programs effectively.
Updates outdated software and remove old programs.
Helps you getting more organized.
So, it's time to get rid of those digital dust bunnies that are littering your desktop unnecessary. Hope these 11 Best PC Cleaning Software helps you to make the most out of your PC.
Wrapping Up: Best PC Cleaning Software
It's hard to find a PC tune-up software that has the answers to all your computer issues in one package but not anymore, because now you have the best bunch of free PC Cleaner Software that we highly recommend to anyone having unending system issues.
All the aforementioned PC Cleaning software have their own benefits and disadvantages. However, Systweak's Advanced System Optimizer has the best combination of features that gives your PC a terrific performance boost like never before. Download it now and enjoy super-smooth system functioning just like a new computer.
Try them and do let us know your experience in the comment section below!
See Also:-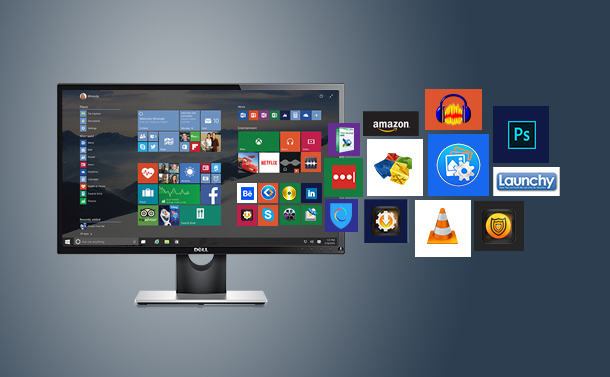 The Best PC Software For Windows 10, 8,...
Looking for the best free PC software for your system? We've rounded up the greatest Windows 10 apps that are...