While this blog was getting published, the cryptocurrency in question, Aeternity was proudly standing on rank 30 amongst all the other cryptos on Coin Market Cap! We are well versed with the fact that with introduction of Bitcoin and Ethereum, several cryptocurrencies were launched with the aim to surpass the popularity of these two-big cryptos! The key question is, has Aeternity managed to surpass the master? Is it more successful? Or more popular? Let's begin at the basic question.
What is Aeternity?
Aeternity or 'AE', a project by former Ethereum team member named Yanislav Malahov has gained popularity in the crypto community quite swiftly! Designed to overcome scalability issues, this cryptocurrency offers more scalable smart contracts when compared to others. The team behind this crypto is quite strong, and that points out the fact that, for them climbing the stairs of success is not very difficult. All they need to do is maintain their teamwork.
What they have designed is a Blockchain that aims to solve the problem of decentralization. What this means is that they aim to solve the issues that arise due to the decentralized providers of real world data. While Ethereum too is working on a similar Blockchain, the team of AE thinks, they shall be more successful. Simply because, AE uses RAIDEN network which is absolutely different than what Ethereum has. This network basically offers a unique form of governance. The one in which miners will vote and value holders will place a bet to make a better decision. AE has been successful till date because it efficiently pushes the boundaries of innovation. Furthermore, it also offers a low cost of transaction!
Must Read:-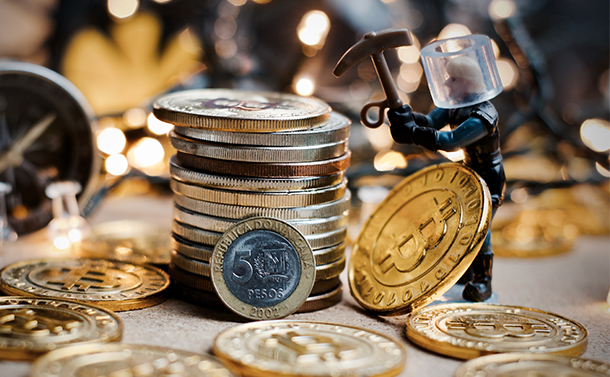 Demystifying 5 Common Myths About Bitcoin
Confused about Bitcoin? Well, you're not alone. Here we are talking about some very common misconceptions about Bitcoin that needs...
Why is it so innovative?
While there are several reasons behind it's cutting edge innovation, a few of them are mentioned below:
The execution of Turing-complete smart contracts. This process focuses on making smart contracts safe and efficient. Also, it supports multiple virtual machines!
This is accomplished via hybrid PoS and PoW algorithm.  The PoW known as cuckoo cycle encourages development of DRAM chips. Moreover, the PoS is done with the help of delegated voting.
It allows the offline usage of smart contracts. Only in the case of disagreement, does the code of smart contract is enforced on the Blockchain network.
It does the extremely hard work of connecting smart contracts with real world data. These are used to provide tamper proof data. This data, can then be used by contracts to act on. Moreover, the privacy, security and its low cost also makes it highly popular in the crypto community. Additional key features that come into play is that the team uses limited technologies namely, ERLANG, elixir, C++, Python, javascript, Vue.js, Github exclusively.
Must Read:-
Cryptocurrency Mining: The New Form Of Ransomware
With the open adaptation of people towards cryptocurrency mining, there is a rise of new threat that is blooming. Cryptocurrency...
The trading of Aeternity:
The total supply is 273,685,830 from which only 233,020,472 will be circulated for trading purposes. If one wishes to buy, several exchanges such as Binance, gate.io, Koinex, Liqui, and several others trade in it. As Aeternity is a ERC20 token, it's wallet can be exchanged or swapped.
What are the implementations of this?
AE can be used for several things such as Nano and micro payments, Supply Chain Management, Toll API, Information markets, Insured crowdfunding, Assets and portfolio replication and many others. The team claims that it will be useful in many other things many of which are unconceivable at current time.
The final verdict:
Though there are considerable similarities between ETH (Ethereum) and AE, currently in the market, AE is performing better than the expectations of the crypto experts. They also claim that the market for AE shall grow exponentially. However, heeding caution, we suggest investing in only after thorough research and analysis. The cryptocurrency market is an unstable place where impossible becomes possible. Hence, keep your eyes open for this one folks, for it just might be the one crypto that shall disrupt this sector for all.