The world is acknowledging the benefits offered by Blockchain technology and witnessing its gradual implementation in different industries. According to experts, this technology will surpass the sensation caused by the internet and will revolutionize the work-mode of businesses. From education to space, its versatility is augmenting its significance and in next 10 years, it might become a dominating factor for this world to run.
Within less than a decade, Blockchain has already upgraded itself into three generations. In this blog, we are covering the three generations or phases of Blockchain technology and how it has upgraded itself from mere fundamental protocols to a unified platform for mainstreaming dialogues between various businesses. Also, the blog covers AION network and token and its possible future role.
First Generation: Bitcoin and cryptocurrency
This technology experienced lukewarm response after it was first introduced and only limited audience knew about it that planned to invest in this market. But later, Blockchain became the new sensation in business world and its stock surged like never. The vogue instigated audiences to know more about this technology and its founder. The brainchild of Bitcoin, Satoshi Nakamoto's presented the first product based on the protocols of Blockchain.
Alternative currency platforms like Bitcoin and other cryptocurrency was launched based on this technology. Hence, Blockchain as a technology was first implemented in cryptocurrency and to be precise, Bitcoin in 2009. Peer-to-peer secure digital transaction platform substantiated by a decentralized network at global level formed the basis of cryptocurrency.
This gave an opportunity to develop a monetary system resistant to modifications and thefts that is based on shared public ledger. It offered a platform that eliminated the need for physical centralized authority, where every transaction is done by notifying other investors. Till now, the world has not witnessed any major hacking in Blockchain that can question the credibility of this technology.
Also Read:-
Second Generation: Ethereum and smart contracts
Cryptocurrencies are currently dominating the world of Blockchain and people around the globe are minting money using this platform. This trend is still in vogue and developers have opened another platform that allows designers to create applications based on Blockchain technology. Ethereum and smart contracts are its first examples.
According to experts, Ethereum is considered as "digital oil" and Bitcoin as "Digital gold". Both these generations are gaining reputation for its immense possibilities and outstanding features. The second generation was officially launched with Ethereum in 2015 that allows management and administration of digital assets with no ownership.
In layman's term, currently internet is said to be free and decentralized but somehow it is controlled by large corporations like Facebook and Google. Ethereum aims to end this dominance and centralization of internet and efficiently give authority to technology to a platform.
Also Read:-
Third generation: AION
If you have ever invested in cryptocurrencies, then it is certain about the competition among them. Future will have tons of Blockchain operating in mainstream government and businesses but no platform that allows them to communicate with each other. You can compare the present situation with computers of the 1980's when the hardware existed, and people used it for their personal needs without communicating with other computers.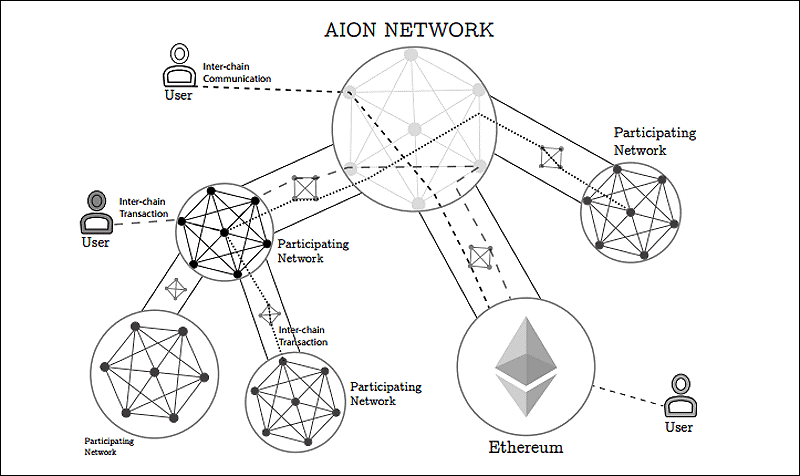 AION aims to solve this problem and hence, becomes the third-generation blockchain network that will empower every government and businesses to unite and merge for facilitating value and data exchange. Also, faster, and safer transaction with greater ability to save and transfer data. And the most significant benefit, where customized Blockchain platforms can be created for both government and businesses.
In short, this platform instigates cross-chain interoperability and allows developers to independently select issuance, governance, consensus mechanisms, and participation. The focus is to get along with other blockchains and run its own applications, deliver a system that supports interoperability in the network.
Also Read:-
AION Token
From building applications, setting up bridges, developing new Blockchain to protecting complete network, AION token can be used for everything and much more. You can connect AION with Ethereum for setting up chains between them effortlessly.
So, this was all about AION network that is set to revolutionize the future of Blockchain technology. Do share your thoughts in the comment section below.