If you are into the zone of quick blogging where text, videos, and images are easy to upload and you can express your thoughts freely then you must already be aware of Tumblr. This microblogging platform was at another level a couple of years back because of the allowance of NSFW (Not Safe For Work). However, the policy change of removing NSFW content has declined the website's traffic for more than 30%. And now people are heading for Tumblr alternatives to enjoy the freedom of expression just like before & share the joy of thoughts.
This is the reason we have compiled a list of best Tumblr alternatives below besides social media platforms like Instagram, Twitter, Facebook, etc.! Scroll down and learn the features of each of them.
Top Tumblr Alternatives 2020
1. WordPress
USP: Popular and strong backup support
Pros: Hundreds of themes are available; best for SEO perspective
Cons: Complicated if multiple actions are required.
Why stick to a microblogging websites like Tumblr when you can own your website and enjoy seamless blogging? Yes, WordPress is an amazing alternative to Tumblr which offers a variety of themes based on a different niche to choose from.
A custom URL website can be created through WordPress.com or WordPress.org. After this, you can enjoy customization at any level using plug-ins and themes. Yes, you can't make this Tumblr alternative work using hashtags, but SEO, social support and multi-user support makes it different from all the competitors.
Start Blogging Here: WordPress!
2. Blogger
USP: Backed up by Google
Pros: Simple to use; Speed and security are huge pluses.
Cons: No customer support
We don't think you have missed name of this replacement of Tumblr when looking for a platform to make your own name in the world of blogging. Interestingly, you can create 100 free blogs per account and is quite easy to use that even a novice needs no guidance. Once you have started with your blog on Blogger, you can track traffic, detailed statistics, page views, etc. to find out the impact.
You might find a setback here with low chances of customization and themes but its Google back and AdSense presence makes it a popular replacement for Tumblr. Don't forget to add an external theme on Blogger to make it more exciting.
3. Medium
USP: Rich and curated content
Pros: Smart content management system, Gives a huge exposure to the publisher
Cons: Limited control on the website
Launched a couple of years back in 2014, this app similar to Tumblr has gained its name due to amazing characteristics like low-cost beginner's plan, the addition of custom domain, and access to a plethora of topics for free.
This Tumblr alternative focuses on the content quality, connectivity with the targeted people, and shows page views as well as traffic to the author. Why bloggers love this platform is advanced features including scheduling options, ability to share links, and in fact importing posts from other sources. Every serious blogger would like to call Medium as the best Tumblr alternative after exploring the features.
4. Mastodon
USP: Dedicated servers for various content
Pros: No advertisements; Large community
Cons: Navigation is tough at the beginning.
You will probably get a flash of Twitter while using this app similar to Tumblr as you create a post here, follow people and get followed. This is also one of the best Tumblr alternatives due to the presence of a huge user base who can like and comment on your post. Moreover, there are dedicated servers for different types of content to experience a glitch-free blogging experience.
No advertisements and no tracking make it perfect for people focused on social media style writing experience.
5. Ghost
USP: Very powerful dashboard
Pros: Easy space to create new content; in-built SEO for blog traffic
Cons: Plugins are lacking.
An open-source blogging platform, Ghost has made writing and publishing simpler for many bloggers. This Tumblr alternative comprises 2 variants i.e. webserver hosted package and self-posted package to choose from. Its fast response and powerful dashboard make it stand apart from all others and is a popular choice amongst other sites similar to Tumblr.
In fact, Ghost allows explicit content on its platform as long as it legal and gives users the next level of freedom of expression. Do not worry about censorship anymore and share what you love with Ghost.
6. Sharesome
USP: Free adult social community
Pros: Full control over your content; No strict regulations
Cons: You can't make money with Sharesome.
Completely free of cost, Sharesome allows content creators to interact with other bloggers through this platform which is in the list of unique apps similar to Tumblr. It is also known as an adult social media website and in fact, pertains to anonymous features when you do not wish to reveal the identity while browsing NSFW content.
Users can easily upload pictures, videos, GIFs and do not even need to enter through email addresses. Interestingly, Sharesome began in 2018 and still claim to receive 2.5 million visits per month. Cool, right?
 7. Posthaven
USP: Minimal and powerful
Pros: Allows auto-posting to Facebook and Twitter
Cons: Trial accounts are not available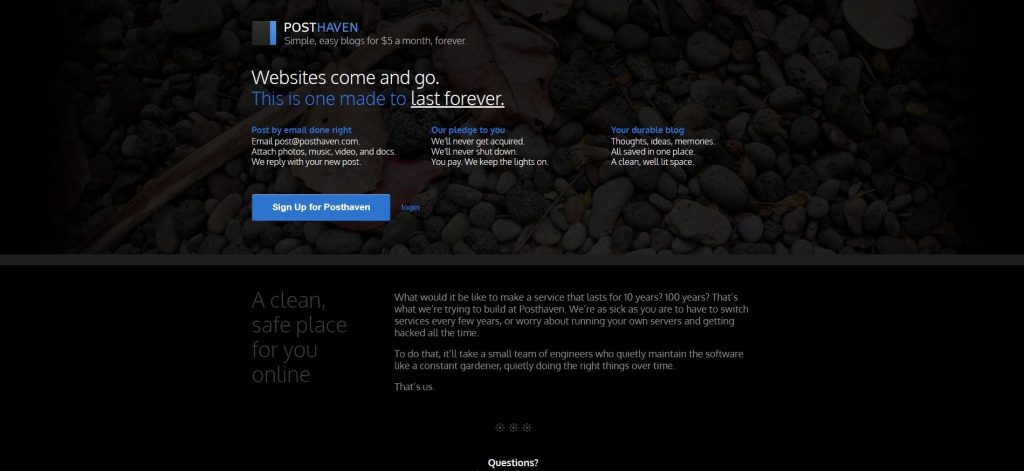 You might think why to pay $5 per month when cheaper options are available out there but this Tumblr alternative site is just worth every penny. Your blogs remain password protected and any activity upon the same is emailed to you for regular updates.
You can upload explicit content in the form of videos, images, etc. and it is made sure that nothing will be taken away when it's uploaded online. Consider the site similar to Tumblr when willing to enjoy your old-favorite features once again.
8. Soup
USP: Mirrors Tumblr
Pros: Good customization options
Cons: Quite unpolished to look at
Soup might sound a little different for a Tumblr alternative but its features and interface is pretty much similar to Tumblr. It is super easy to use at one end whereas you can post links, quotes, videos, audios, files, events, etc. to the same.
Soup also acts as a personal scrapbook for you which allows remixing of the web. For example, if you like anything online, just click on the button and add it to you Soup and you can revisit the same page once again. Various Soup groups are available online which can be joined based on personal interest.
9. Typepad
USP: Reliable & Flexible
Pros: Add content directly from the dashboard; Earn through blogging
Cons: Only a few integrated widgets
Typepad is another Tumble alternative site that is trusted by the world's best bloggers in genres like craft, food, style and much more. CSS based themes and support of Google analytics are some of the features that can't be ignored. It even allows importing of posts from WordPress which makes it one of the best alternatives to Tumblr.
10. Pillowfort
USP: Allows NSFW
Pros: Blacklisting feature for privacy.
Cons: You have to signup with Facebook or Twitter
Pillowfort is one of the coolest Tumblr alternatives that gives content control and privacy to the users of what can one watch, can be commented, etc. You can create separate communities from your curated hobbies and interests. If any post contains terms in the blacklist, no additional extension is required for hiding them.
It allows blocking someone from seeing the content at one end whereas threaded conversation lets you converse in multiple chains. and let's not forget that NSFW content is absolutely allowed as the filter option applies automatically for those who do not wish to watch it.
Conclusion
Even though Tumblr is hitting a low-point, Tumblr alternatives are reaching a new peak every day. After all, this game & competition rule the internet world. This is the reason that newly launched websites are also running right beside the old rulers.
Hence, you can scroll up once again to find the one Tumblr alternative site which perfectly suits your requirements. Once again, enjoy blogging carefree (or responsibly)!
Do not forget to add your thoughts in the comment section and let us know which option is the right pick for you and why. Till then keep following our Facebook & YouTube page for more updates.