"Why the hell my mac machine is taking so much of space? I am constantly getting "Your Startup Disk Is Almost Full" error on my screen. I went to check out the "Storage" & it was taking over 94 GB! I proceed to check its content & it was greyed out. Is there any quick & hassle-free way to clear them?"
– An Upset Mac User
Does this problem sound familiar to you? Are you fed up with "Your Startup Disk Is Almost Full" notification popping over and over? Lack of available space on startup disk can trigger several issues. It can lead to both unstable & slow performance on Mac. Less space can also prevent some programs to run properly. The problem of frequent system crashes also occurs due to a packed hard drive.
Over-all, you need to free up disk space to avoid such error. This can be done both manually & automatically using a dedicated System Cleanup Tool. We'll be discussing both the ways to delete system storage on mac effectively & efficiently.
So, let's get started!
10 Best Ways To Clear System Storage On Mac
Listed are some of the most effective methods to prevent "Your Startup Disk Is Almost Full" problem on your Mac Machine.
Method 1 – Make Use of Smart Mac Care
Method 2 – Clean Your Trash
Method 3 – Delete Unnecessary or Failed Downloads
Method 4 – Clear Caches on Mac
Method 5 – Remove System Logs
Method 6 – Remove Unused Languages
Method 7 – Delete iPhone Backups
Method 8 – Erase Mail Downloads
Method 9 – Uninstall Unnecessary Apps on Mac
Method 10 – Remove Duplicates on Mac
Method 1 – Make Use of Smart Mac Care
If you don't feel like spending a lot of time to find and clean things one by one, you can take the help of Smart Mac Care. It's a dedicated utility designed to clean, optimize & protect your system. It features all the tools and functionalities to boost system performance & maintain it for a longer time.
And, of course, there's a free trial available that offers one-time cleaning. You can even manage startup items  & use the Memory Optimization feature for a limited duration of 24 hours.

Features:  Smart Mac Care is a blend of advanced tools that lets you get rid of security threats, junk files, and other privacy issues. Here's everything it offers:
Malware Scan = Helps you identify & remove malware, adware, spyware & trojans in a click.
Web Protection = Improves browsing experience by blocking unwanted ads & malicious links.
Junk Scan = Remove junk files that unnecessarily clutter the hard disk & delete system storage on mac.
Privacy Scan = Saved info & data on browsers is a potential gateway to identity theft & other breaches. Get rid of them in a single scan with it.
Advanced Tools
Uninstaller = Lists all the installed programs & apps in one place, so that you can uninstall multiple items in one go.
Login Items = Manage, add & remove startup items for improving system boot time.
Duplicate Finder = Its single scan, lists all the duplicate photos, videos, folders & other documents. Hence, get rid of all the exact & similar files from a single dashboard.
Disk Usage = Locate the largest files stored on your Mac & delete them if you don't require them anymore. It's one of the most useful modules to clear system storage on mac recover huge space.
Failed Downloads = Presents all the incomplete or corrupt download items stored on your mac. Erase them in a jiffy and clean mac system storage for more space.
Flash Cache = Improve browsing speed and remove unnecessary cache files to reclaim huge chunks of storage space on your mac machine.
System Details = Lets you know about all kinds of redundant data stored from iTunes, iOS updates, downloads, backups and so on. Remove them to acquire more space.
Memory Optimizer = Shows how much memory is available & lets you Optimize your Mac for smooth functioning with just one click.
Smart Mac Care features all the functionalities that you would ever need to clear system storage on mac. In fact, it's various modules help to keep mac maintained for a longer run!
If you wish to delete system storage on Mac using manual methods, read further ways to do so:
Method 2 – Clean Your Trash
This may sound elementary, but we usually forget to delete files/folders stored on our Trash.  Emptying your Trash folder at least once a week can help you save a lot of unnecessary occupied disk space.
Go to your dock & Right-Click on the Trash > select option Empty Bin

Method 3 – Delete Unnecessary or Failed Downloads
Have a closer look at the Download Folder. You can follow the path to find the location:
/Macintosh HD/Users/Current User/Downloads
You'd be surprised to see how many download items and files have been accumulated, several of them might not be very useful to you. Go on, cleaning out download items that you don't require or (don't know that it exist) & recover tons of storage space in a jiffy.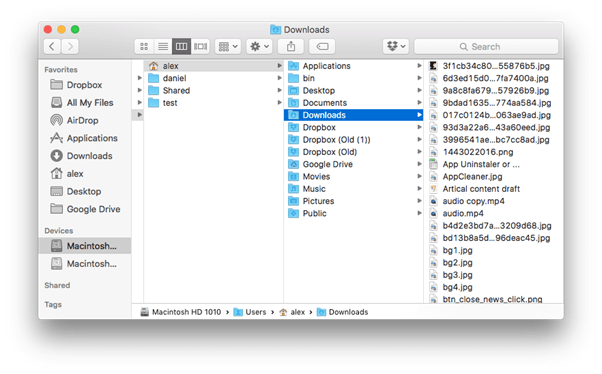 Method 4 – Clear Caches on Mac
Now that you know how much space your other files are occupying. Now it's the time to reduce the footprint on your Mac. Remove caches from your Web Browser, photo previews & save Apple Music Streams.
Launch Finder from dock > Go > Go to Folder > type ~/Library/caches >
A list of caches from all the active apps would be displayed  now choose App Folder of your choice:
Right-click on it to choose to Move to Trash option.
Method 5 – Remove System Logs
System Logs basically record system app's activity & services. These log files eat up plenty of storage space on your mac machine. They are useful for debugging the developer but are simply useless for ordinary users. So, it's better to get rid of these log files to cleanup system storage on Mac.
To do so: Launch Finder
Type ~/Library/Logs > Highlight all the Log Files and hit "Command + Backspace" > Restart your Mac.
Method 6 – Remove Unused Languages
Language Resources is the data stored by multilingual apps. If you are using such programs & done need all the translations, you can simply get rid of the unneeded ones, apart from the ones you wish to keep for using the app.
Note: Be careful to remove languages that you would never need to use the particular application.
Open Applications folder > choose the desired app > Right-click & select Show Package Contents option > Resources
Start deleting useless language files.
These files have extension .Iproj with language name's first two letters in prefix.
Method 7 – Delete iPhone Backups
Chances are that you've backed up your iPhone/iPad to your Mac using iTunes.  You might not realize but these massive backup files take a shocking amount of space. Check these folders and delete backup files you no more require.
Open the following path  ~/Library/Application Support/MobileSync/Backup & start deleting old folders.
Wondering what if you need those backup files in the future? How about storing those important data somewhere else? A place where you can easily access them anytime, anywhere & don't take any space on your Mac Machine. Try using Right Backup, an amazing cloud storage solution that can help you store your large amount of data effectively & securely.
Method 8 – Erase Mail Downloads
If you're using the built-in Mail Application on your Mac machine & have the same account for a long time, there's a good probability that large Email Attachments have accumulated and occupied a great amount of space on your drive. Oftentimes, these files occupy gigabytes of space, hence cleaning them is absolutely worth it. Manually doing this is truly a cumbersome task:
Open up Mail
open the folder you want to remove attachments from
Sort the size to locate biggest attachments
click on Message & Remove Attachments from the menu.
Repeat the process for all the messages!
Method 9 – Uninstall Unnecessary Apps on Mac
It's one of the most common ways to clear system storage on Mac. All you have to do is go through all the applications that you don't use or exist on your system & uninstall them.
Open Finder
Applications
Find programs you want to uninstall
select the software's icon
Click on Move to Trash. Make sure to Empty the Trash, after uninstalling all the apps, so that no residues are left behind.
Method 10 – Remove Duplicates on Mac
Do not forget those Duplicates & Similar photos, videos, documents & other files. They can literally stack up without you being aware of it. Manually finding them is a hell lot of a time-consuming task. So, it's highly recommended to use a dedicated application for the purpose. You can try Duplicate Finder and Remover by Systweak Software.
The utility can help you scan all the exact & similar-looking photos, videos, music, documents, archives and other multimedia files occupying the largest disk space on Mac. Its single scan can help you clean mac system storage in a few moments.
Well, that seems to be all. Using these tips, you can delete system storage on Mac without any hassles. Just note, that you can clean up your machine manually, but that may take a lot of your time & if done incorrectly can result in several system issues. You can go ahead with using professional tools like Smart Mac Care or TuneUpMyMac utility, both are quite popular in the market & can help you save time & do the quick and efficient cleanup of your Mac.
To know about TuneUpMyMac or other Mac Cleaning Utilities, go ahead reading our next articles: