QUOTE OF THE DAY_ The technology you use impresses no one. The experience you create with it is everything. ~ Sean Gerety.
MICROSOFT REMOVES HIGHLIGHT AND CAPTURE FEATURE FROM SKYPE
THE STORY
Skype gets rid of Snapchat like Highlight feature and focuses on simple and user-friendly interface.
WHY IS MICROSOFT REMOVING HIGHLIGHT AND CAPTURE FEATURE?
Features like Highlight and Capture don't interest users and were overcomplicating the app. Therefore, Microsoft has decided to go back-to-basics.
Highlight, a feature that allows users post collection of photos was making difficult for the users to place call using Skype.
Also, apps like WhatsApp, FaceTime, Messenger are slowly eating away Skype. So, to be back in business Microsoft had to give what users want i.e. a simple interface without added features.
WHAT IS MICROSOFT PLANNING?
Microsoft plans to refocus on Skype's video calls, VoIP calls and messaging by updating the mobile app. Plus, it will get rid of features, that no one is interested in. Moreover, it is keeping an open ear to collect feedback from users by partnering with UserVoice site.
WHAT IS THE IDEA BEHIND SKYPE'S NEW DESIGN?
The new interface focuses on Skype's fundamentals like making calls, sending messages and to remove redundant and unused features. Along with this Skype's 'Classic' blue theme will be back.
Mobile interface will have three buttons at the bottom for, Calls, Chats and Contacts.
Desktop app will have buttons at the top left window for Contacts, Chats, Calls and Notifications.
WHAT MICROSOFT HAS TO SAY?
"Calling became harder to execute and Highlights didn't resolve with a majority of users", explained Peter Skillman, director of design at Skype, in a blog post. "We needed to take a step back and simplify!"
"We looked at how people use Skype apps, performing extensive testing across global markets and building prototypes to test new concepts," says Skillman. "We are listening to your feedback and are wholly committed to improving the Skype experience based on what you are telling us."
Microsoft's experimentation with design changes "over complicated some of our core scenarios", including Skype's original purpose of making calls, according to Peter Skillman, director of design for Skype and Outlook.
"Our new navigation model removes redundant and underused features that create clutter — making it much easier to find the people you want to talk to and contact them in an instant," said Skillman.
WHAT HAPPENS TO HIGHLIGHTS POSTED BY USERS?
Users who posted Highlights can download them until September 30,2018.
OTHER FEATURES ADDED TO SKYPE?
Key features missed previously will soon be added like split window view in Windows 10, allowing to change font size in chat, searching for a message within chat, online status improvements, privacy settings and adding phone number as a contact in a simple manner.
WHEN WILL THE NEW UPDATE ROLL OUT?
The design update follows July launch of Skype version 8.
See Also:-
7 Amazing Things You Should Know About Skype
Skype is one of the most user-friendly and secure platform for video calls and chats. But apart from this, there...
---
RUMOR: SAMSUNG TO DEBUT SMARTPHONE WITH FOUR CAMERAS
THE STORY
Samsung's new smartphone might come with quadruple sensors and 4 cameras compared to dual cameras from iPhone.
WHAT IS THE RUMOR?
As per a tweet by Samsung leakster Ice Universe, Samsung is planning to launch a smartphone with four sensors.
IN WHICH SERIES WILL THIS HANDSET FEATURE?
As of now, it is unclear as to which series the handset will feature will it be Samsung's Note series, S series or Galaxy F (brand's foldable smartphone). However, rumors are A series might be the one. Because, A series handsets are usually revealed in previous year and the sale starts from year beginning.
WHEN IS THE DEVICE EXPECTED TO LAUNCH AND WHAT WILL IT INCLUDE?
The new Samsung device with four rear cameras is coming this year i.e. 2018. Besides, this there is no news about what the device might look or will include. To know more about it will have to wait for next four months. What we know for now is a new smartphone with four cameras will be unveiled.
See Also:-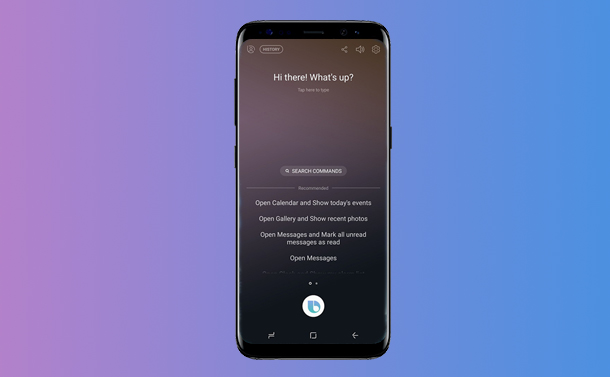 9 Samsung Bixby Tips and Tricks to Make...
Bixby is capable of doing a wide range of tasks to make your Smartphone experience smoother. If you're willing to...