Computers are machined to perform functions systematically. It is built to perform several functions and is loaded with tons of inbuilt features; and one of those functions is filesystem. It's the system that controls and categorizes data. In simple words, it turns pieces of information into a single file that can be viewed at a specific location on your computer. For example, your operating system data is saved in different folder on a local drive. These folders are created and sorted because of file system.
Filesystem helps you manage your data in the best possible manner. With that been said, it's also the system that helps you to remove clutter from your system. Your PC is most likely to pile data that is redundant, junk or unwanted and apparently hogs space on its disk. However, finding and removing such data requires you to have an efficient disk space analyzer software. So to save you from the hassle, we have listed 9 best Windows disk usage analyzer software for you.
Top 10 Disk Space Analyzer for Windows 10/8/7/XP
1. Disk Analyzer Pro:
Disk Analyzer Pro is our first utility that scans, analyzes and presents your entire disk usage in several summaries. You can look up to these summaries to figure out obsolete files, be it the biggest ones or junk files. These summaries include File Size, File Types, Attributes, Date, Time, Ownership, Summary, Folders List and File Explorer. Once you have previewed files on via these summaries, you can go on to delete them and free up disk space. Download Disk Analyzer Pro here.
2. CCleaner:
Developed by Piriform, CCleaner is another storage analyzer tool to cleanup your disk. Unlike others, it is available in different versions that includes a free, and two paid versions. Its paid versions are Professional and Professional Plus. The free version of CCleaner helps you fasten your computer and protect privacy. Furthermore, next two versions add up more features successively.
3. WinDirStat:
WinDirStat is another hard drive analyzer, with an intuitive interface. It analyzes and presents disk usage in several colors indicating different file extensions. You can click on any of the colors and find exact files that are occupying space on your system memory. Further, the tool also helps you delete unwanted files with its Clean Up option. Download WinDirStat here.
Read Also:-
4. Wise Disk Cleaner:
Wise Disk Cleaner analyzes and categorizes your data in file folder according to its file type. It has various viewers to analyze files, namely Common Cleaner, Advanced Cleaner, Slimmer System and Disk Defrag. Once you've checked all files on your disk, you can proceed to removal with 'Clean' button. This disk space analyzer for Windows also has marking options to select file categories at once for deletion. Download Wise Disk Cleaner here.
5. TreeSize: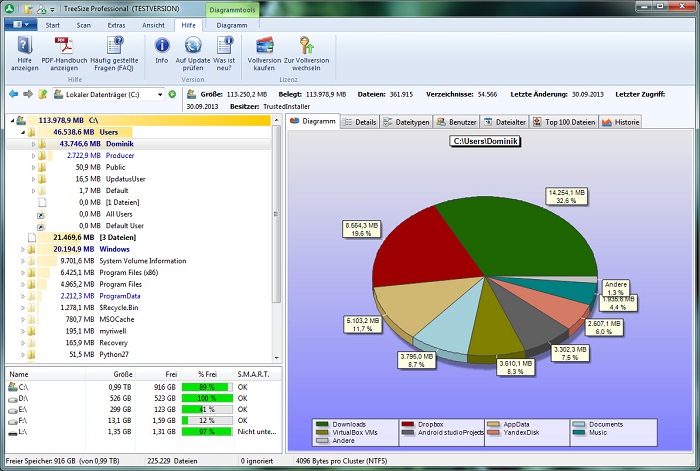 Anyone with a steady hand on Office, might find this tool better than others. We'd say, its interface highly influenced by that of docx files. Once this tool scans your disk, it presents all the data in treemap view. You might have to click on to several folders in order to find the final file that is taking up space on your system. Along with treemap view, TreeSize also show disk usage in pie chart.
Must Read:-
6. SpaceSniffer:
SpaceSniffer is another disk space visualizer tool to show up folder and files in treemap view. With the help of this treemap, you'll have to figure out files and folder and their location on the disk. Once all this is done, you can delete files with this software.
7. DiskSavvy:
DiskSavvy scans and classifies all your data in file explorer, at one place. It mentions file numbers in a folder, space on disk occupies and % of space it occupies. You need to right click on each of the listed folder in order to open, copy, move or delete them. It's a handy tool with a clear and easy-to-understand interface.
8. RidNacs:
RidNacs scans your disk and presents its folders in treemap. Further, the tool also mentions the size of each folder along with percent of space it is occupying on disk. The tool has a clear interface, with which you can view your files hidden in each folder and delete them in a click.
Read Here:-
9. SpaceMonger:
This tool has everything in it. Quite literally! Upon scanning, it presents the data in treemap, pie chart and file viewer format. With this again, you'll have to look in to your files and delete the redundant ones.
10. GetFoldersize:
GetFolderSize is the last Windows disk space analyzer tool on our list. Like others, it also scans the disk in order to analyses it. You'll be able to find out unwanted files on your disk with its treemap arrangement. Once you have previewed your data carefully, you can head on to delete clutter out of it.
These are the top 9 software to clean up your disk. Though, all these disk space analyzer software perform the same function, they mainly vary with their interface.