We all have used native Windows copy software. To use Windows native copy software, we need to just drag and drop the file to the location of our choice. Alternatively,  we could just use right click and select copy, and go to another location. This followed by, right click on the location and select paste.
Windows native software does the job very easily, however, when transferring large files, we need a fast alternative.
There are different third-party file moving software available, which copy the files at a fast speed
6 Best File Copy Software For Windows 10, 8, 7
Here are our top 6 picks for fastest file copy utility software:
1. EaseUS Disk Copy (The best file copying tool you can get)
EaseUS Disk Copy is a best tool when it comes to copying the files, this program will make copy of your whole drive and transfer to another.
This application iv very useful if you wish to transfer all your data from one drive to another. If you wish to migrate all your data to another drive making it very useful tool for copying all your data.
EaseUS Disk Copy is easy to use application is simple, fast and secure to use and provide you with the 100% same copy of your data.
This program is available in two versions i.e. EaseUS Disk Copy Professional & EaseUS Disk Copy Technician:
EaseUS Disk Copy Technician:
Compatible with Windows 10, 8, 8.1, 7, Vista, XP
Supported Hard drives: 16TB
Clone disk/partition by sector
Feature to resize disk/partition during copy.
Create WinPE bootable disk
For business use
You can purchase this software from the button below:
2. Teracopy
Teracopy is a free transfer utility which is one of the fastest file copier in the market. It skips problematic files and copies, and moves the files at maximum possible speed.  It will also try to recover the files which contain errors and if it is unrecoverable it will only skip that file and does not terminate the entire transfer.
Also, if there is no connection it will wait for it to reconnect. It will also show the detected errors and will allow only to remove, and recopy the problematic files.
It will also confirm about drag and drop operation to prevent accidentally moving of the files. It will also keep history of recently used directories, and show folders which are open in Explorer and other file managers.
Get it from here
Also Read:-
15 Best Disk Cloning Software for Windows 10,...
Find the best disk cloning software for 10, 8, 7 and also know what is disk cloning and what is...
3. FastCopy
FastCopy is an open source computer software. It is a portable file and directory copy utility, which is for Windows software that is available for 32 bit and 64 bit, and for all version of Windows. It is fast transfer software, which can also be integrated with Windows. It also has a nice interface to copy and move any files, it will not take over native Windows software but you can use right click on the file and then select "Fast Copy" after that you can select destination directory. You can also use it without any problem with other copy software.
Get it from here
4. Copy Handler
It is also an open source software. Copy Handler has many functionalities like pause, resume, restart and cancel. It is faster than Windows copying native software. It also contains many configuration options like auto resume when an error occurred, auto shutdown function when task is finished. It also has multi lingual support with full support for English and Polish language. Users will also get detailed statics about copy and move operation like filename, count and overall, priority, progress by size, buffer sizes, current and average speed, time elapsed, estimated, left, status, current and average speed, and many more. Also, it will resume operations after system reboots.
Get it from here
5. UltraCopier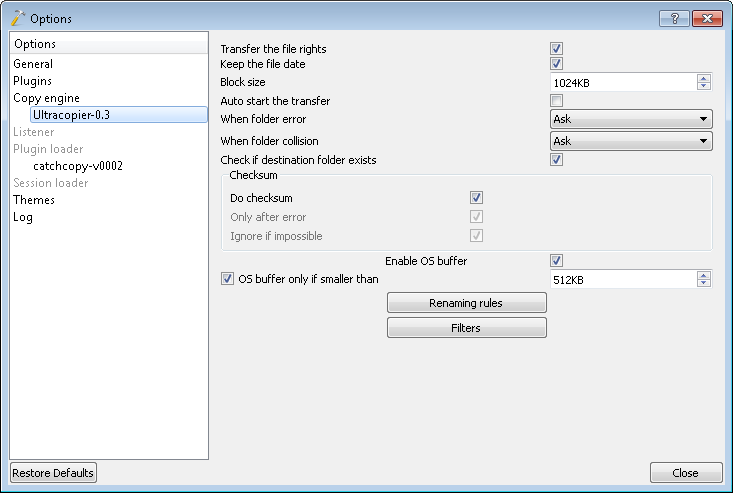 UltraCopier is an open source software like Copy Handler and FastCopy. It is also one of the best copier available in the market, which can easily resume a file transfer from a disconnected USB storage. It can be configured to use one of the many "copy engine" to achieve the efficiency and speed. Multiple copy operations can also be performed and it can be queued for the execution and tasks can also be re-ordered, paused and resumed at any time.
The software has other features like speed limitation, error management, resume on error points, start/pause options, Double progress bar to general and current file, Copy list can be edited during the copy, etc.
Get it from here
Also Read:-
Best Duplicate Photo Finder Tools to Remove Duplicate...
Get the best duplicate photo finder and cleaner to delete duplicate pictures and free up disk space. Find ideal duplicate...
6. ExtremeCopy
It is also one of the best Windows copy software available. You will be able to move and copy the files at a very fast speed. ExtremeCopy integrates itself into Windows. Which will allow to directly use the software instead of manually select it. When user perform any move, or copy operation this program automatically takes over. Other functions like pause skip, resume interrupted operations, with error and collision management.
Available in pro and standard version.
Standard Edition  Features:
Fast
Verification
Seamless
Controllable
Multiple Languages
Free for non-commercial user
Pro version features
Including All of Features in Standard Edition
Failed File Recovery
Copy to Multiple destination in one task with fastest way
Copy Task File
More Options For Copying Be Supported
Obtain More Support Service
30 days free trial
Get it from here
Whatever the reason being, you can always trust third party software for copying and moving files on your Windows 10, 8, 7 and other versions. There are different software available in the market which you can use. You can use any one of the copy software we have listed to easily, fastly and efficiently transfer files and directories from one destination to another.